Randi Smith appointed Vice Chair of Diversity, Equity and Inclusion for the Department of Surgery
January 2022 – Emory News Center
---
Randi N. Smith, MD, MPH, has been appointed the inaugural Vice Chair of Diversity, Equity and Inclusion for the Department of Surgery. In this role, Dr. Smith will provide vision and leadership as the department enacts a national model for advancing multiplicity, egalitarianism, and a welcoming culture in the field of surge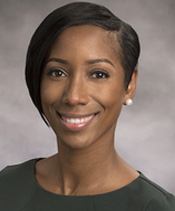 ry.
Dr. Smith received her MD degree from the University of California San Francisco, and her MPH from Johns Hopkins Bloomberg School of Public Health. She completed her general surgery residency at the University of California San Francisco – East Bay, and her fellowship in trauma and surgical critical care surgery at the University of Pennsylvania.
In 2017, Dr. Smith joined the Emory faculty. She serves as a trauma surgeon and surgical ICU physician at Grady Memorial Hospital, and has won both teaching and service awards at Grady. Her special interests include violence prevention, global surgery, and clinical outcomes with a focus on understanding the social determinants of health that lead to trauma and health disparities. She has published numerous peer-reviewed manuscripts investigating this topic.
Dr. Smith is involved in pipeline programs that bridge the gap between youth from backgrounds underrepresented in medicine (URiM) and the medical field, as well as guide URiM medical students to mentored research experiences. She is a member of several committees charged with achieving diversity, inclusion, and health equity including the DEI Committee of the American Association of Trauma, the DEI Committee of the Society of Critical Care Medicine, and the Improving Social Determinants to Attenuate Violence (ISAVE) Workgroup of the American College of Surgeons' Committee on Trauma.
In addition to her busy clinical schedule, Dr. Smith holds a joint appointment at the Rollins School of Public Health and teaches two courses promoting firearm injury prevention and violence as a public health problem. She has gained a national reputation for her work with hospital-based violence intervention programs and youth violence reduction strategies.
Dr. Smith has mentored numerous medical and public health students, scholars, and surgical trainees. As a devoted mother, she is a champion for women and parents in surgery. She is passionate about providing quality and equitable patient care while simultaneously promoting wellness and self-care.