Highlights from the HERCULES Center Retreat
Promoting Environmental Health Research
On October 10th, HERCULES investigators and invited guests gathered to reflect on the past year and contemplate the next. Center director, Dr. Gary Miller, set the stage for the event by discussing the value of the exposome for promoting environmental health research from an integrated and holistic perspective. Deputy director, Dr. Paige Tolbert also reminded investigators of the broad reach of the Center in supporting environmental health research and the career development opportunities continuing to emerge as the Center advances.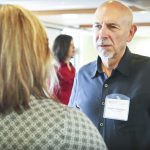 The Future of Exposome Research
There was no short supply of excitement about exposome research. Dr. Eddie Morgan discussed the incredible response to the call for pilot applications this past year and projects that have been funded so far, providing a unique opportunity for investigators to explore complex exposome-related questions for future grant applications.
With so much energy in the response to the pilot program, it was great to hear more about the NIEHS exposome initiative. Dr. Dana Barr touched on the upcoming NIEHS Exposome Workshop in January where she and Dr. Gary Miller will lead two of the workgroups. Dr. Stephen Rappaport, External Advisory Board member, exposome advocate, and exposure biologist/environmental epidemiologist from UC-Berkeley, wrapped up the presentations by offering his perspectives on the next steps of exposome research and what he sees as both the challenges and opportunities for the field.
Opportunities for Collaboration
In addition to hearing from various core directors, a primary focus of the meeting was to allow investigators to get to know one another's research better. With over 40 investigators in the Center, this called for a fun, fast-paced and efficient solution. The investigators participated in a data blitz with only one slide and one minute to discuss their current research.
After a set of lively and informative presentations, it was time to swing the discussion towards new collaborations and research. With such a diverse set of skilled investigators, ideas were flowing about the unique opportunities across Emory. Strong interests in coordinating microbiome research, tapping into the many well-developed cohort studies, and developing more opportunities for the graduate students across the university were just a few topics that sparked investigator interest.
Discussions continued over lunch as investigators wandered through the posters presented by Center investigators and their graduate students. With so many ideas generated, the next year of the HERCULES Center is shaping up to be filled with innovative projects and fully realized connections.