Greetings from the new director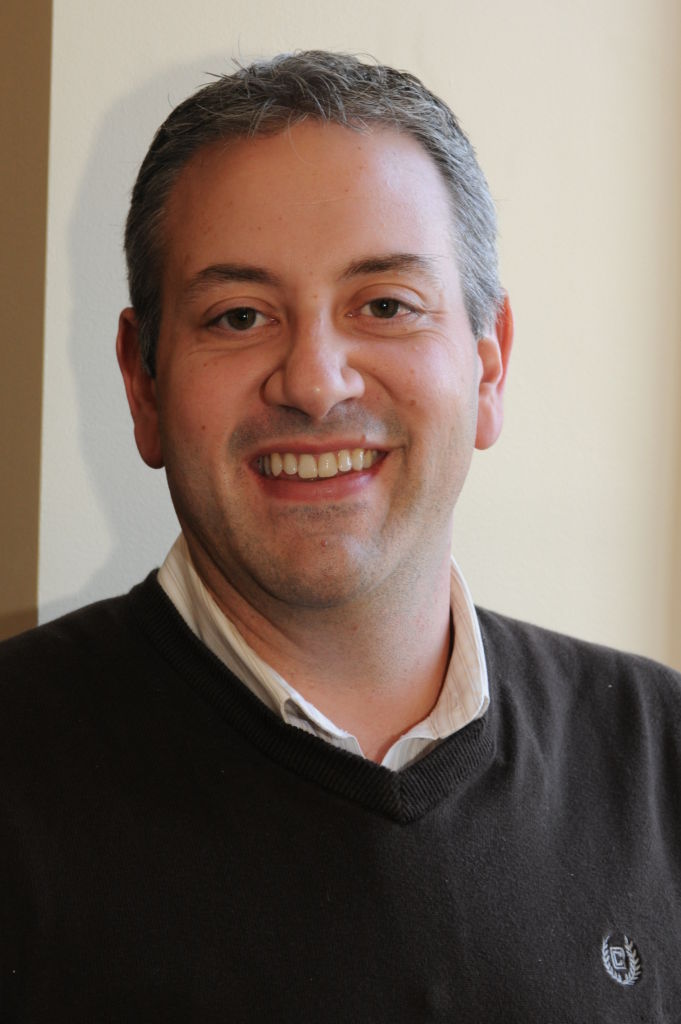 When I was recruited, one of the major drivers of my decision to move to Emory in 2016 was the HERCULES Center and the numerous opportunities such a center could bring in building an innovative research program. I am now honored to take on the leadership of the center, and want to first thank Gary Miller, who founded the center, for his vision around exposome research here at Emory and for his dedication to developing the multi-faceted and successful research program we now have at Emory. I see the HERCULES Center as an incredible opportunity to build research capacity and individual research programs in the environmental health sciences, to encourage and foster collaborative and team science, to provide state-of-the-art laboratory and data sciences services, and to build relationships with our Atlanta regional community partners to help us to ensure our science is impactful. Over the next few months, I will be reaching out to a variety of HERCULES investigators and partners to understand their needs and how we can ensure that this center continues to be successful. I look forward to working with all of you to move the environmental health sciences to the forefront of research at Emory and beyond.
-Carmen Marsit, carmen.j.marsit@emory.edu
HERCULES Investigators Awarded Supplemental Grants for Cross-Center Collaborations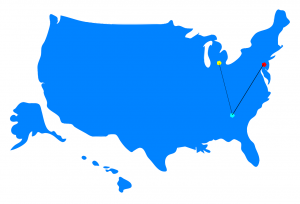 Dr. Dana Barr, Director of the HERCULES Targeted Exposure Analysis Laboratory, was awarded a supplement to collaborate with Dr. Brian Buckley at the CEED Center of Rutgers University in a project to better understand the utility and the limitations of passive samplers for examining environmental exposures.  These samplers, which can be a silicone wristband worn by a person in their environment or a small tube placed within an area to sample the air, have not been fully evaluated to understand the breadth of contaminant classes captured by the samplers and their sampling efficiencies. The combined expertise of Dr. Barr's HERCULES Core Laboratory and Dr. Buckley's CEED analytical facility will address these shortcomings. The results of this study will allow investigators to be fully aware of the advantages and disadvantages of using these types of exposure monitors and allow a better understanding of the contaminants that an individual may be exposed to in various environments.
Dr. Melanie Pearson, HERCULES Community Engagement Core Director, collaborating with Dr. Michele Marcus, a HERCULES Investigator and environmental epidemiologist, and Dr. Amy Schulz, Director of Community Engagement at the University of Michigan M-LEEaD Center, received a supplement to expand their work in the Michigan communities that have been affected by historical exposures to polybrominated biphenyl (PBB), a toxic flame retardant which was mistakenly introduced into the food supply in the 1970s. This project will create opportunities for dialogue between community residents and environmental health researchers in ways that respect and leverage their individual unique knowledge. This project will highlight the central mission of the Community Engagement Cores by giving those who experienced these exposures the opportunity to document their experience and helping researchers understand the environmental health literacy of the community around these exposures.  This project will facilitate a true, multi-directional dialogue between researchers and the communities affected. The overall goal is to provide HERCULES investigators opportunities to better understand ways to communicate, educate, and involve communities in their research.
Welcome New Faculty
The Department of Environmental Health has added a number of new faculty over the past year, and we want to welcome them to Emory and HERCULES. Below are brief bios to introduce them to our HERCULES community.
---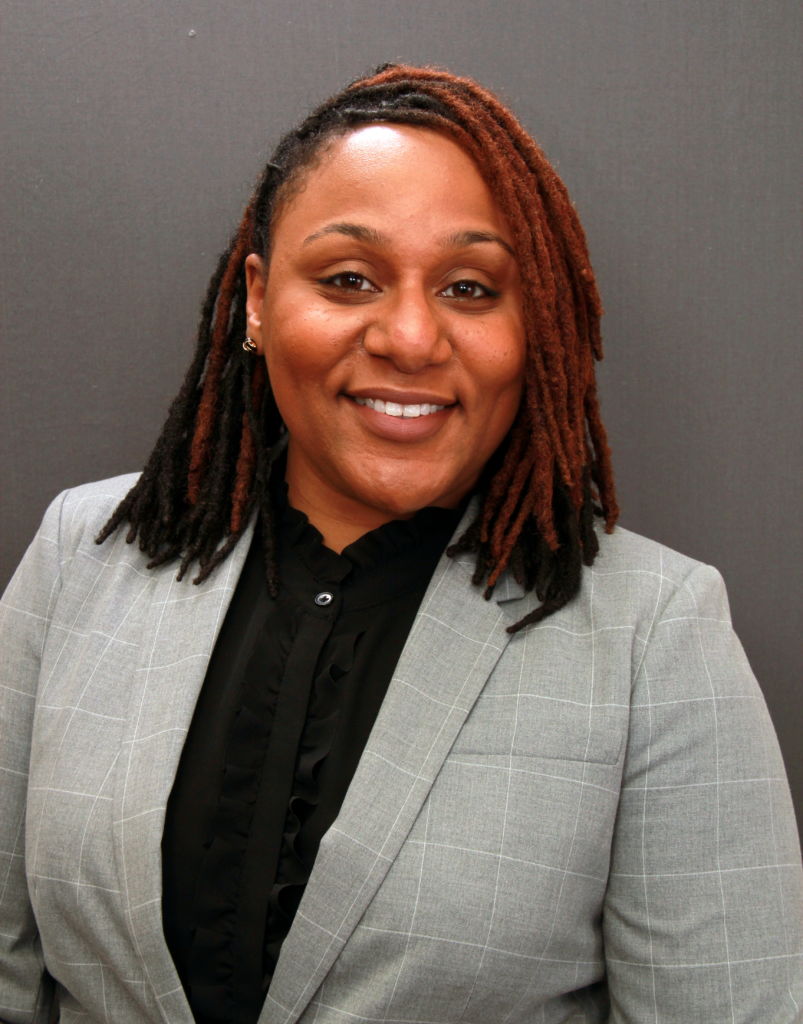 Melissa Smarr, Ph.D.
Melissa is anAssistant Professor in the Department of Environmental Health in the Rollins School of Public Health at Emory University.  Prior to joining the faculty at Rollins School of Public Health, Melissa received a PhD in Environmental Health Sciences (specializing in occupational and environmental epidemiology) from the University of Michigan School of Public Health. She then completed a two-year intramural postdoctoral fellowship with the Epidemiology Branch, followed by a promotion to a Research Fellow in the Office of the Director with the of the Division of Intramural Population Health Research within the NICHD. As an investigator with the Thai Birth Cohort Study (SAWASDEE, PI: Dana Barr); HERCULES Exposome Research Center; and the School of Nursing's Center for Children's Health, the Environment, the Microbiome, and Metabolomics (C-CHEM2), Melissa's research focuses on  understanding and measuring environmental exposures in the context of reproductive, prenatal, and children's health.
---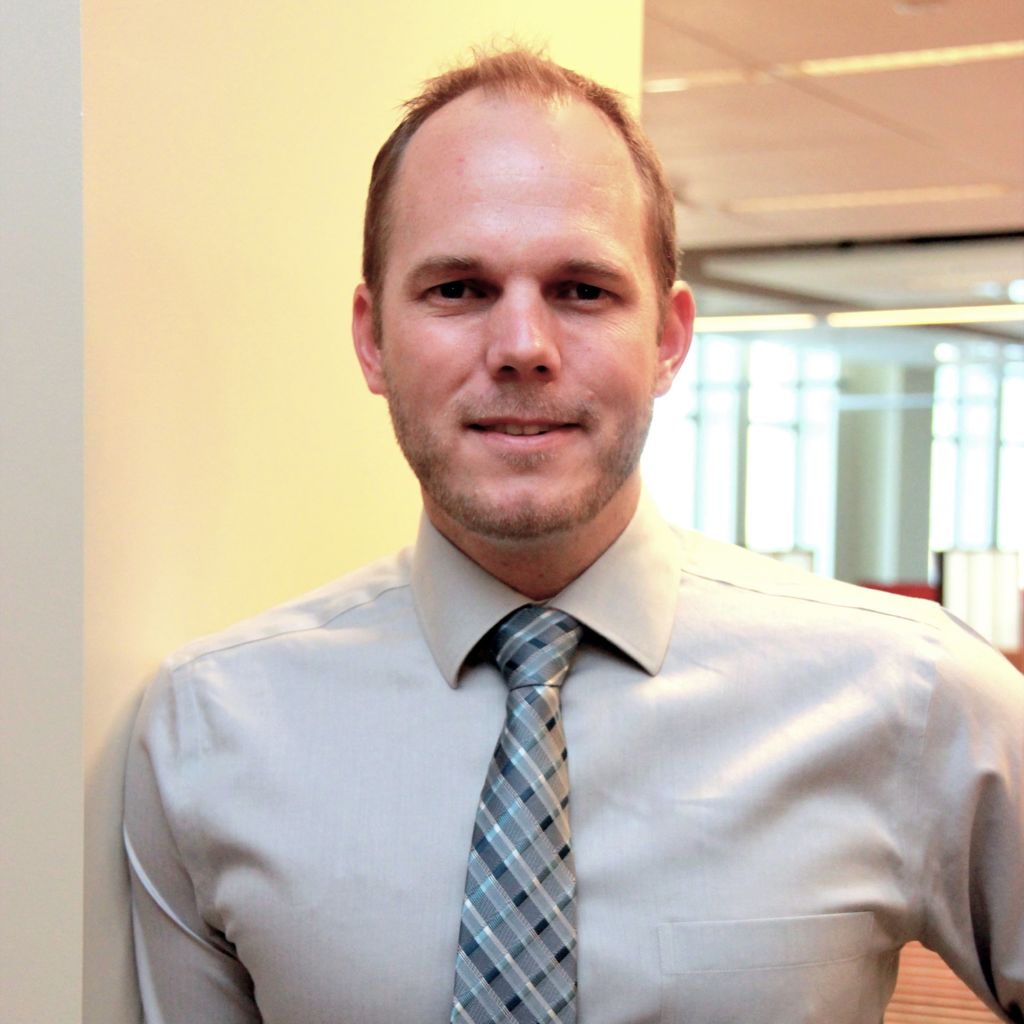 Todd Everson, Ph.D.
Todd completed his doctoral training in Epidemiology at the Arnold School of Public Health at the University of South Carolina, where he studied epigenomics and allergic disease. He then completed 3 years of post-doctoral training at Dartmouth College and Emory University, where he has examined the effects of prenatal metals exposures on molecular activities in fetal tissues, as well as their corresponding impacts on growth and development, and has lead meta-analyses of epigenome-wide association studies for common exposures within the Pregnancy and Childhood Epigenetics (PACE) consortium. Todd is now joining the faculty here as a Research Assistant Professor in the Department of Environmental Health at the Rollins School of Public Health at Emory University. His research focuses on how environmental exposures, particularly during the prenatal period and early childhood, may alter the functions of critical developmental tissues, and the consequences that this may have on health trajectories and future disease outcomes.
---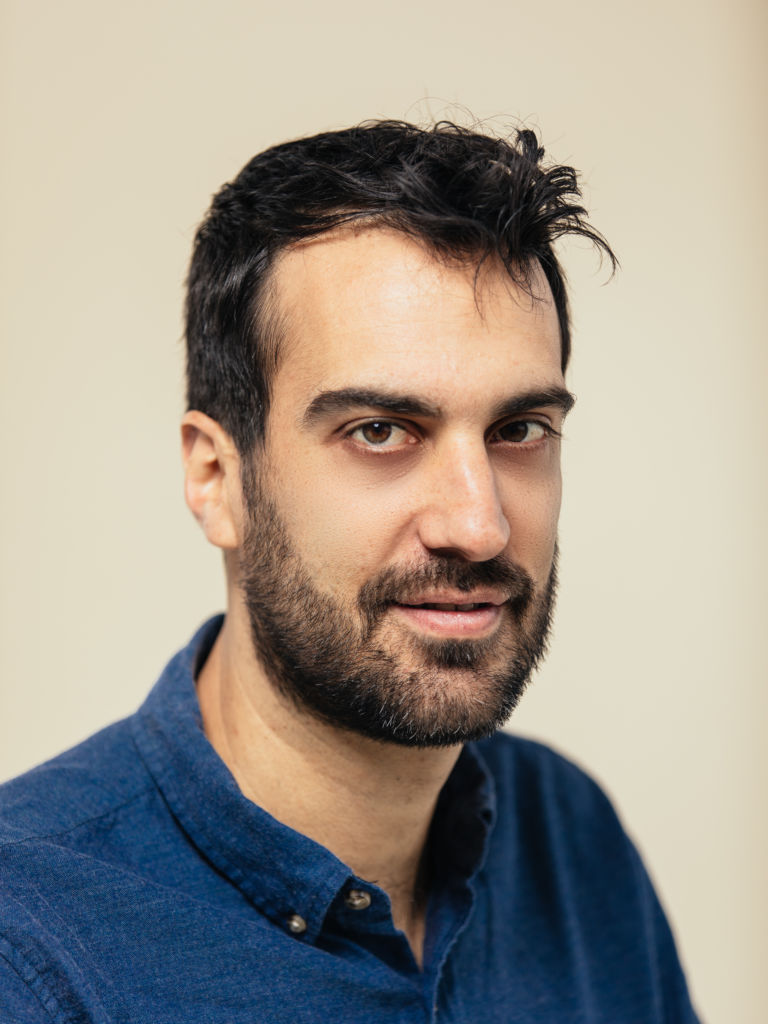 Noah Scovronick, Ph.D.
Noah's research focuses on understanding and quantifying the potential health impacts that may result from climate change, as well as from climate policy. Much of his work entails adding human health considerations – especially those related to air pollution – into the global cost-benefit climate policy models that are used to estimate the social cost of carbon and corresponding optimal mitigation trajectories. In addition, Noah is involved in several epidemiological studies exploring environmental health issues in South Africa, with a particular emphasis on temperature effects. Noah was educated at Emory University (BSc), the University of Cape Town (MSc), and the London School of Hygiene and Tropical Medicine (MSc, PhD), and he is now an Assistant Professor in the Department of Environmental Health at Rollins.
---
Donghai Liang, Ph.D.
Donghai Liang is a research assistant professor and recent PhD graduate in the Department of Environmental Health at Emory University. He earned his B.S. in biology at Peking University in Beijing, China, and his M.P.H. in environmental health sciences at Yale University in New Haven, Connecticut. His current research focuses on health effects associated with ambient and traffic-related air pollution using exposure assessment and high-resolution metabolomics. During his doctoral training at Emory, he served as a lead researcher and project manager on several projects funded by the U.S. Environmental Protection Agency and Health Effects Institute. Donghai has first authored and co-authored 14 papers in topics related to exposure science, environmental metabolomics, and molecular epidemiology. In addition, Donghai has presented 11 platform and 10 poster presentations at the annual Conferences of International Society of Environmental Epidemiology (ISEE) and International Society of Exposure Science (ISES). He is the recipient of the JESEE Young Investigator Award and several Conference Travel Awards and Poster Awards from both societies. Currently, Donghai serves as the co-chair of the ISES Diversity Committee.
HERCULES Investigators Earn New Research Funding Awards
Dr. Tom Ziegler, HERCULES Investigator in Endocrinology, in collaboration with HERCULES IHSFC Director Dr. Dean Jones and the HERCULES High Resolution Metabolomics Facility, received an R21 grant from NIEHS to examine whether pollutant chemicals stored in fat could be impacting the success of bariatric surgery (R21ES028903).
Dr. Michael Caudle and Dr. Carmen Marsit, HERCULES Director, in collaboration with Dr. Dana Barr, Director of the Targeted Exposure Analysis Facility, and colleagues at the Institute for Exposomic Research at Mt. Sinai, have received an R01 grant as part of the NIEHS Environmental Influences on Placental Origins of Development (ePOD) program to examine how pyrethroid pesticides, working through alterations to placental function, impact neurobehavioral development in both an animal model and human birth cohort study in Thailand (R01ES029212).
HERCULES Provides Support for NIEHS Grant Development
A major goal of the HERCULES Center is to aid HERCULES Investigators in the development and execution of new research projects in the environmental health sciences. Our Facility Cores, including High Resolution Metabolomics, Targeted Exposure Analysis, Clinical and Population Research Services, Environmental Health Data Sciences, and Community Engagement Core, all offer support and guidance in proposal development and will work to facilitate applications for funding. Grant writing and editing services are also available to HERCULES Investigators, as are mock reviews of Specific Aims or Research Strategies. To request any of these services, please complete the appropriate Facility Core Request Form or contact Kate Hodgins, Center Administrator (katehodgins@emory.edu).
Upcoming HERCULES Events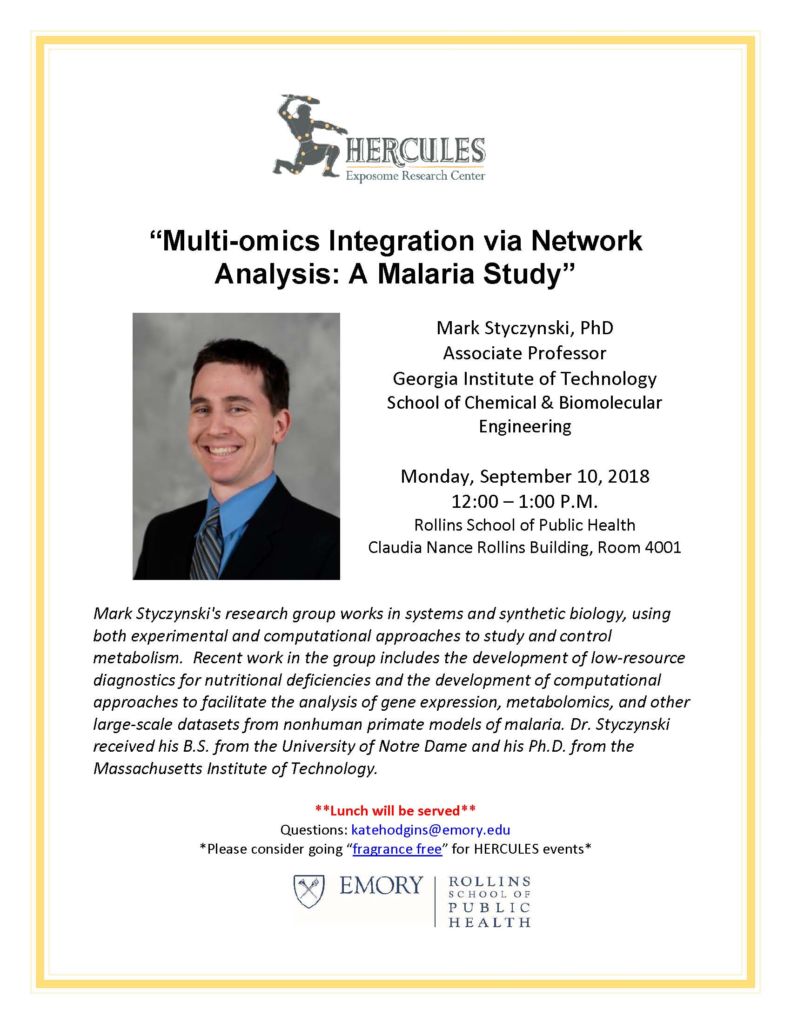 Upcoming HERCULES Seminars (12:00-1:00 pm, Claudia Nance Rollins Building, full details available soon):
October 17th, Mark Prausnitz, Georgia Institute of Technology
November 5th, Howard Chang and Yang Liu, Rollins School of Public Health
November 19th, Beate Ritz, University of California, Los Angeles
November 26th, Melissa Kemp, Georgia Institute of Technology
On December 11th from 9:00 am – 4:00 pm, HERCULES Members are invited to a Retreat to hear updates from the HERCULES Director and Cores, learn about the research of new HERCULES Investigators and Pilot Awardees, network with other investigators to identify potential collaborations, and help us to ensure the Center is meeting our investigators' needs. Registration and a full event agenda will be circulated to HERCULES Members soon.